WE DON'T DELIVER STANDARDS - WE DELIVER READY-MADE SOLUTIONS.
From tooling to pressing and delivery.
In addition to the various processing steps that can be carried out directly in the pressing plant, such as the foiling of profiles, drawing in and rolling tight of piping and brushes, as well as all mechanical processing steps, delwo aluminium also has its own processing plants in Germany and Europe. They are specialised in machining and assembling of aluminium profiles. The solutions we offer include CNC machining, barrel finishing, welding, assembly, punching and drilling. As a result, it is usually significantly more economical for the delwo aluminium customer to obtain the product from a single source. delwo controls and monitors all processes in permanent dialogue with the parties involved. The delwo customer can thus rely on punctual delivery in the usual high quality.
SPECIFIC SOLUTIONS
With a wide variety, for instance, precision cutting, machining, semi-finished assembly, kit fabrication and a host of other customised options, we offer a full range of services and solutions to meet your specific needs.
Two CNC machining centres up to a profile length of max. 9 m
Four C.N.C machining centres for short lengths up to max. 1.6m
Various other types of equipment for punching, milling, threading, etc.
OTHER PRODUCTS,
THAT MIGHT INTEREST YOU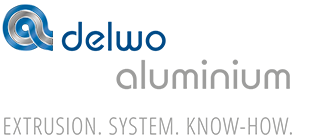 Eloxal
Aluminium powered coating
Aluminium processing
Aluminium assemblies
Aluminium profiles for the construction industry
Aluminium profiles for window construction
Aluminium profiles for mechanical engineering
Aluminium profiles for kitchens and furniture