SITE NOTICE
delwo aluminium GmbH
Seestraße 1
D-74232 Abstatt
Company headquarters:
Rennweg 97
56626 Andernach
T +49 (0) 7062 9789-50
F +49 (0) 7062 9789-59
welcome(at)delwo-aluminium.de
Responsible for content according to §6 TMDG:
delwo aluminium GmbH
Court of jurisdiction: District Court Koblenz
Commercial register no.: HRB 13462
VAT ID No.: GI 167966506
Managing Director: Mr. Christian Nickelsen, Mr. Michael Rudolph
Copyright declaration
Copyright - delwo aluminium GmbH. All rights reserved. Documents, graphics, software and source texts that are components of this website and can be downloaded from this server are protected by copyright for delwo aluminium GmbH. Unless otherwise noted, the use, reproduction and transmission of these documents, graphics and software require the written consent of delwo aluminium GmbH.
Exclusion of liability
All links are checked regularly, so at the time of linking there is no knowledge of illegal content of the linked website. The opinions expressed on external websites do not necessarily reflect the opinion of delwo aluminium GmbH.
Should the operator of this website (delwo aluminium GmbH) discover or be informed that illegal content is to be found on a linked website, the corresponding link will be removed from www.delwo-aluminium.de immediately.
All data and information contained in our Internet pages have been carefully researched and checked. All information is provided without guarantee. Changes and errors excepted. We reserve the right to make changes and additions at any time and without prior notice. Our offer is subject to change. No liability can be assumed for correctness, completeness and topicality.
Privacy policy
Delwo aluminium GmbH complies with the data protection provisions of the Federal Data Protection Act, the Media Services State Treaty and the Teleservices Data Protection Act. Insofar as you enter personal data, this is directed only to delwo aluminium GmbH. delwo aluminium GmbH will not pass this data on to third parties without your consent, unless it is anonymised usage data for market research purposes or billing data that is required for the purpose of collecting a debt.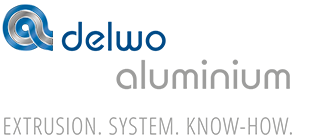 Eloxal
Aluminium powder coating
Aluminium processing
Aluminium assemblies
Aluminium profiles for the construction industry
Aluminium profiles for window construction
Aluminium profiles for mechanical engineering
Aluminium profiles for kitchens and furniture