EVERY DAY THAT BIT MORE PERFECT.
Aluminium for a better life.
There are no standard profiles at DELWO ALUMINIUM®. We've invested in a pressing plant that can meet even the highest requirements for dimensions and qualities. In addition to a precise pressing process, the plant offers further processing and surface finishing in perfect quality.
Always evolving to deliver even more perfection and ultimate satisfaction for our customers. With the introduction of the Lean Manufacturing industrial method, our partner plant extrusax has one of the most modern and technologically advanced plants in Spain.
EXTRUSION
As specialists in complex profiles with high quality requirements, extrusax offers a broad spectrum of production possibilities:
7 production lines fully automated, 2000 MT, 3x 1800 MT, 2800 MT, 3000 MT, 4000 MT
Alloys available
EN AW- 6060, EN AW-6063, EN AW-6005, EN AW-6082, EN AW-6101, EN AW-6463 and EN AW-1070
Strengths F, T4, T5, T6, T64, T66,T7
Production capacity 65.000 tons/year
Weights from 150 gr/m to 35 kg/m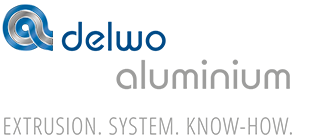 Eloxal
Aluminium powder coating
Aluminium processing
Aluminium assemblies
Aluminium profiles for the construction industry
Aluminium profiles for window construction
Aluminium profiles for mechanical engineering
Aluminium profiles for kitchens and furniture